Shop Now
Marzini Natural Medicine Clinic
Healthy Products
Our commitment to your health extends far beyond the clinic walls. We want you to use these products in your home and know that you are also living a healthier lifestyle by using them.
EVOHE SKIN CARE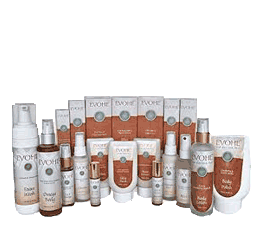 Evohe is a revolution in 100% natural, luxurious, organic skin care.
Evohe's mission is to formulate the highest quality, most nutritious and purest skin care and cosmetics so you can nourish your skin in the safest, healthiest way possible. This is done by avoiding cheap, harmful ingredients that should never be found on the skin.
All Evohe products are free from palm oil derivatives, glycerine, synthetic fragrances, colours or preservatives, parabens, animal derivatives, soap, retinol, sulphates, mineral oils, petrochemicals, propylene glycol, lanolin, triethanolamine or phthalates.
Evohe delivers unchanged nutrients from the plant to your skin, meaning our products are real and all natural. The ingredients are formulated with minimal processing so they can remain bioactive.
The skin thrives under natural ingredients like floral, berry, butter and nut extracts, which are synergistic with the skin and deliver essential fatty acids, vitamins and antioxidants that work to positively address many different skin types and issues. Your skin will reap the benefits of densely packed concentrations. They work on the whole family, regardless of gender or age.
We stock a wide range of Evohe skin care products.
UltraStream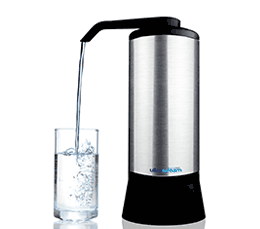 A water filter with the best filtration media in the world.
There had to be a better, simpler, far more affordable way to alkalize, ionize and purify water. And now there is – the incredible, 'new-generation' UltraStream from AlkaWay.
Using the exclusive O-Dobi ionizing beads and the world's best leading edge filtration media all certified by USA's highest water filter certification, UltraStream produces the same alkaline ionized antioxidant water as water ionizers 10 times the price.
All NSF tested and approved. University tested for the life of the filter; 3000 litres to remove harmful contaminants including fluoride, chlorine, chloramines, heavy metals and bacteria AND to produce hydrogen-rich, alkaline and ionized water that you'll want to keep on drinking.
You also have the option to fit the UltraStream under the sink and can register for a 3 year warranty and sign up for a yearly replacement filter reminders!
Now $599 (incl GST)
Contact Us To Order This
Herbs, Vitamins and Minerals App Vol 6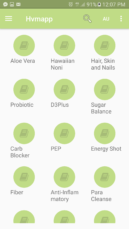 The Herbs, Vitamins and Minerals book has served many Social Marketing Consultants in Australia and New Zealand for more than 16 years as a great source of information.
Now for the first time ever, Volume 6 App is being released as an International Version with Asia, Europe, US, NZ and Australia all included!
All possible herbs and minerals and combination thereof are listed with sufficient information, making product choice simple and efficient. You will have all the information at your fingertips and an easy search function lets you find everything for every country in just one second.
You can even recommended to your up or down line with just a click of a button.  Stay up to date with all the information, do not get left behind.
Only AUS$14.99
Available to download now!
Easy Tofu and Tempeh Recipes by Devita & Andreas Marzini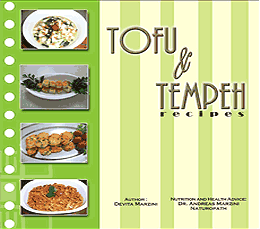 This book introduces healthy & interesting recipes utilizing fermented or curdled soy based products, which are tasty and easy to follow. Tempt yourself and discover a new way to cook!
Available NOW! – Only $20.00    Contact Us To Order This